Perilla seed oil is a kind of natural oil with high degree of unsaturation,the content of unsaturated fatty acids is 95%,and the main component isα-linolenic acid,the content of which is up to about 70%,which is the highest content ofα-linolenic acid among the known vegetable oils.α-linolenic acid belongs to the omega-3 series of essential unsaturated fatty acids.

  Perilla seed oil extraction equipment generally using butane solvent is more reasonable,we have propane,dimethyl ether,tetrafluoroethane solvent and its mixed solvent has also been tested,but butane extraction of Perilla oil has the following advantages:
  1.In the commonly used subcritical fluids,the saturated vapor pressure of butane is lower.Its boiling point is-0.5℃,and the pressure at 25℃is 0.27MPa.At 20~35℃,butane is liquefied into liquid under closed condition.The corresponding system has low working pressure and good safety.
  2.As a food processing aid approved by the state,butane can meet the hygienic and food safety standards of edible oil production.
  3.get high quality Perilla oil.The main active component of Perilla seed oil isα-linolenic acid.Alpha linolenic acid,rich in unsaturated double bond,in the processing and extraction process formed by the heat,oxygen,microorganism epoxide intermediate oxygen compounds,and oxidative rancidity,not only after the oxidation loss of physiological activity,and harmful to human body health,but also avoid the low temperature extraction linolenic acid into harmful trans fatty acids.
  4.The use of subcritical butane fluid extraction of Perilla seed oil oil,low temperature extraction,low temperature desolution,is a non-thermal processing,so as to maintain a greater extent of the defatted protein in the Perilla seed oil meal,can be further processed and utilized,significant economic benefits.
  5.Using subcritical butane to extract Perilla seed oil has the advantages of low equipment production cost,small equipment input and low energy consumption.Overall,the production cost is much lower than that of supercritical CO2 fluid method,and the extraction process has no environmental pollution.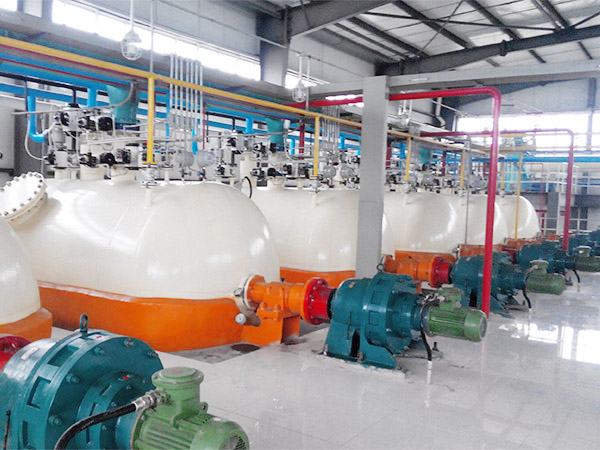 The seed oil of Perilla Perilla contains a lot of oil,so it is generally pressed first to obtain pressed oil and Perilla cake.The main technological conditions of subcritical butane extraction of Perilla cake are as follows:extraction temperature 20~30℃,extraction pressure 0.2~0.5MPa,material to solution ratio 1:1.2,countercurrent extraction times 4 times.Before 2005,we have carried out subcritical extraction experiments on Perilla seed oil with a variety of solvents,and since 2013,we have gradually started mass production.