The common basic production process of Perilla oil can be divided into - leaching method, pressing method, subcritical low temperature extraction method. So what are the differences between these three approaches? Which method is more suitable to choose? Let's see.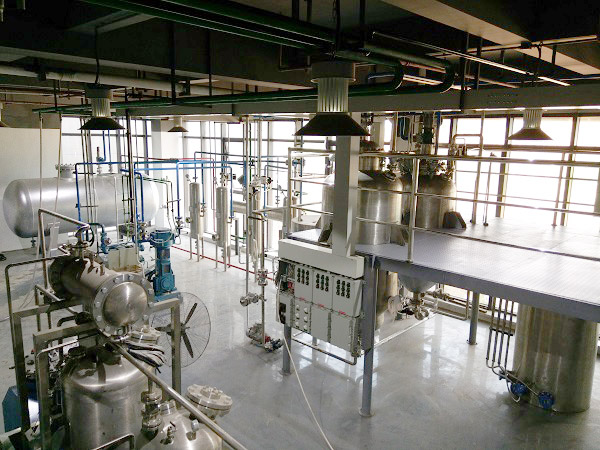 Perilla seed oil equipment
The pressing method is to separate the oil directly from the oil by physical pressure. The whole process does not involve any chemical additives. It can be divided into hot pressing method and cold pressing method. Cold pressing method can ensure the safety and health of the product, and the natural nutrition is not destroyed. It is an ideal processing method. But the oil yield is low and the cost is high. The common oil on the market is mostly leached oil.
Leaching method is to use solvent oil to soak the raw oil, extraction at high temperature, after the "six" process (degreasing, degumming, dehydration, decolorization, deodorization, deacidification) from the processing, the advantage is high oil yield, low production cost, but in the process of serious damage to the nutrition in the oil.
Subcritical cryogenic extraction. The method is to process Perilla in an airtight system of no more than 40 degrees, completely retaining the nutrients of Perilla oil. In addition to the advantages of cold pressing, it also has a high oil yield, can be large-scale industrial production, reduce the waste of resources.
No matter pressed or extracted Perilla seed oil, more or less all contain some impurities which are harmful to human health. However, the processing of Perilla seed oil, to a greater extent to retain the original nutrients of Perilla seed, more conducive to healthy digestion and absorption for the purpose of people. Subcritical cryogenic extraction is used here.
Perilla seed oil equipment
Perilla seed oil extraction equipment generally using butane solvent is more reasonable, we have propane, dimethyl ether, tetrafluoroethane solvent and its mixed solvent has also been tested, but butane extraction of Perilla oil has the following advantages:
① In the commonly used subcritical fluids, the saturated vapor pressure of butane is lower. Its boiling point is -0.5℃, and the pressure at 25℃ is 0.27MPa. At 20 ~ 35℃, butane is liquefied into liquid under closed condition. The corresponding system has low working pressure and good safety.
② As a food processing aid approved by the state, butane can meet the hygienic and food safety standards of edible oil production.
③ get high quality Perilla oil. The main active component of Perilla seed oil is α-linolenic acid. Alpha linolenic acid, rich in unsaturated double bond, in the processing and extraction process formed by the heat, oxygen, microorganism epoxide intermediate oxygen compounds, and oxidative rancidity, not only after the oxidation loss of physiological activity, and harmful to human body health, but also avoid the low temperature extraction linolenic acid into harmful trans fatty acids.
(4) The use of subcritical butane fluid extraction of Perilla seed oil oil, low temperature extraction, low temperature desolution, is a non-thermal processing, so as to maintain a greater extent of the defatted protein in the Perilla seed oil meal, can be further processed and utilized, significant economic benefits.
(5) Using subcritical butane to extract Perilla seed oil has the advantages of low equipment production cost, small equipment input and low energy consumption. Overall, the production cost is much lower than that of supercritical CO2 fluid method, and the extraction process has no environmental pollution.
Henan sub-critical machinery equipment co., LTD. 's production demonstration base has a sub-critical extraction production demonstration line with a daily processing capacity of 80 tons, which can provide batch processing service. The research institute of the company can cooperate to carry out sub-critical extraction technology research for customers' raw materials, and develop new products of plant extracts for customers.