On November 3, 2021, in order to thoroughly implement the spirit of General Secretary Xi Jinping's important speech in Nanyang, the provincial Department of Agriculture and Rural Affairs and the provincial Market Supervision Administration formed a joint research team to visit our company and conduct research on the development of subcritical low-temperature extraction of Artemisia argyi essential oil.
QiKun chairman to Wang Yan (province market supervision and administration of standardization in the secondary research), Li Mingqing (province agriculture and rural areas, deputy director of the department supervision department), Chen Yanliang (province), director of the Chinese herbal medicine production technology service center, zhi-ming gao (henan agricultural university professor), and other specific introduced the subcritical extraction technology applied in wormwood oil at low temperature has a unique advantage, Get research group affirmation and approbate.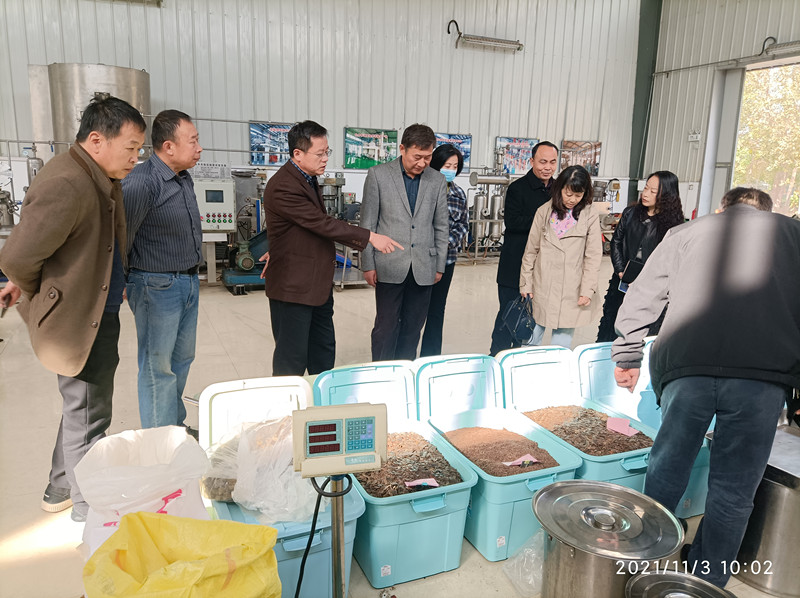 Tangyin County Ai Qidian Biotechnology Co., Ltd. adhere to the concept of scientific and technological innovation, scientific development for a long time, is a company engaged in the production of mugwort essential oil. With artemisia argyi famous product - Tangyin North wormwood as raw material, using our company chairman Qi Kun's sub-critical low temperature extraction technology for extraction, quality of extraction and retention of artemisia argyi essential oil components, and less thermal impact, the production of good activity, full composition, golden color of Artemisia argyi essential oil.