Sub-critical low temperature extraction of grapese
时间:2022-09-16 09:24:51
点击:248 次
来源:河南亚临界机械装备有限公司
  Grape is a deciduous vine that can be used for wine making,fresh fruit,juice processing and other grape products.In fact,grape seed oil content in 14%~17%,grape seed oil contains a large number of unsaturated fatty acids,the content of up to 90%.The fatty acid composition of grape seed oil is reasonable and it is a kind of edible oil with excellent function.
  There are many production technologies to extract grape seed oil from grape seed,among which Henan sub-critical low temperature extraction equipment adopts No.4 solvent low temperature extraction technology to extract grape seed oil,which can preserve its nutritional value to a greater extent.No.4 solvent(mainly butane and propane)extraction technology is a new extraction technology in food processing industry.It uses the characteristics of low boiling point of No.4 solvent,which is gaseous and easy to volatilize under normal temperature and pressure.It overcomes the defects of the traditional solvent method in the separation process,such as steam heating,destruction of heat-sensitive substances,solvent residue in the extract and grapeseed oil,etc.Compared with CO2 supercritical extraction method,the extraction pressure is low(No.4 solvent extraction 0.4-0.7mpa),the processing technology is simple,the equipment investment is small,the practical operation is convenient and fast,and the large-scale industrial production can be realized.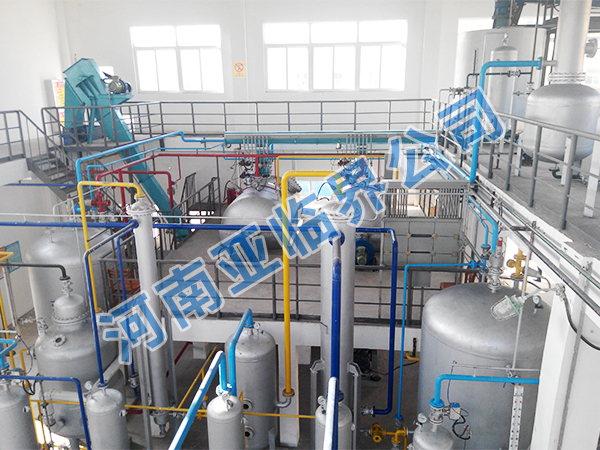 Processing technology of grape seed extraction by sub-critical low-temperature extraction equipment:
  Grape seed→impurity removal→tempering→softening→rolling embryo→low temperature leaching→low temperature meal
  left
  Grape seed oil→refining→refined oil
  Processing technology description:Raw materials with the fan vibration sieve in removing impurity,skin residue from the grape seeds,fruit and other impurities removed,soften after the conveyor into the pot,add some water to soften,up to 65℃,80℃,heat preservation time(15 minutes),in addition to iron into rolling machine after embryo,embryo slice thickness of 0.3 mm,moisture stood at 8%,the embryo to the leaching of workshop.
  A brief analysis of practical operation points of Henan Sub-critical Equipment Company:
  1.Filter to remove the solid suspended matter in grape seed oil,and impurities in grape seed oil should be no more than 0.2%.
  2.Hydration:a certain amount of electrolyte solutions,such as hot water,NaCI and phosphoric acid,are added to the hot oil by using the hydrophilicity of colloid-soluble impurities under stirring,so that the colloid-soluble impurities condense and settle.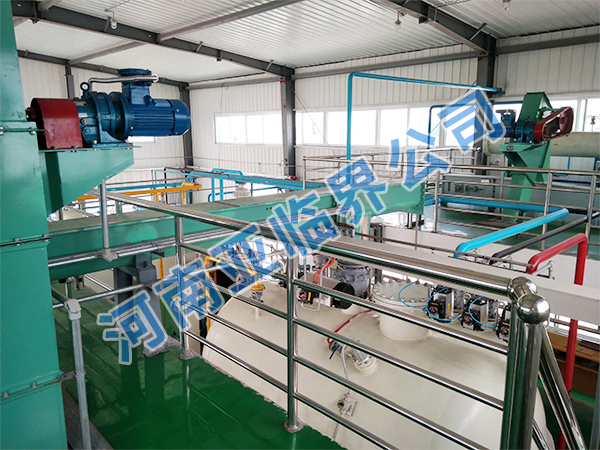 3.Deacidification:detect and filter the acid value in grape seed hair oil,and calculate the theoretical alkali adding amount and excess alkali amount according to the acid value.Remove free fatty acids in hair oil,increase oil transparency,reduce smoke point,prevent oxidation deterioration.
  4.Decolorization:under vacuum condition,the oil temperature rises to 105~110℃for dehydration treatment,and then the white soil and active carbon adsorption grape seed oil chlorophyll and other colors,the white soil in the oil,activated carbon filter out.
  5.Deodorization:heat up the decolorized oil to 180℃above,vacuum degree of 260PA condition,using the principle of water vapor gas extraction,with direct steam to further remove the odor and residual free fatty acids in the oil,reduce the color value and peroxide value.6.Dewaxing:the oil is slowly frozen,so that the grape seed oil gradually drops to about-10℃,so that it is fully crystallized,and then the wax(lipid)is removed by freezing filtration,and the grape seed oil reaches the national first-class oil standard.