Henan sub-critical to undertake oil soybean oil complete set of equipment project
  Yucca bean(also known as tiger nut)is native to Africa and Mediterranean countries,is an annual plant in the family of sedges.Introduced and cultivated in China,Heilongjiang,Beijing,Hebei,Hunan,Shandong,Sichuan,etc.It is a kind of high comprehensive utilization value of oil,grain crops,also known as Shantou sedge,but also beautification,green environment of ornamental plants.
  The available value of Yuca bean is as follows:
  (1)The oil content of Yuca bean is up to about 35%.The oil quality of Yusha bean is better,because it is rich in unsaturated fatty acids:oleic acid 64%,linoleic acid 11%,linoleic acid 2%;
  (2)The starch content of olefin bean was up to about 30%.Every 100 kg of olefin bean cake could yield 50 kg of olefin bean starch,of which amylose and amylopectin accounted for 24.48%and 66.42%.
  (3)The sugar content of Yuca bean is as high as about 25%.After the extraction of starch from Yuca bean cake,40 kg of caramel can be produced for every 100 kg.
  (4)After extracting starch and caramel,25 kg of 50-70 degree liquor could be brewed for every 100 kg of oil soybean cake.
  (5)The protein content of the bean was about 10%,and the protein that could be digested and absorbed by pepsin accounted for 70.59%.
  Complete equipment:
  Our company provides complete processing technology and equipment production lines(complete equipment for pretreatment of oil and soybean,subcritical leaching equipment,oil refining equipment),and customized equipment production lines of different scales according to customer needs.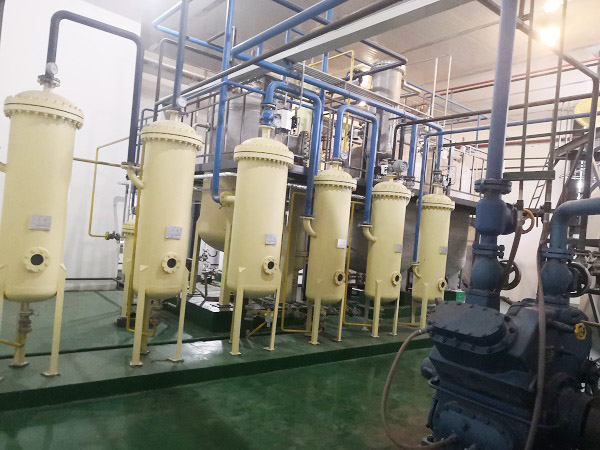 Technology and equipment advantages:
  After pretreatment and subcritical low temperature leaching,the residual oil was below 1.5%and the oil yield was higher.After low temperature extraction of oil,the starch is basically invariant,which is a good food raw material.
  The first is the cleaning and cleaning of raw materials.There will be a lot of mud,stones and impurities in the harvest of Yusha bean.These impurities should be removed in advance,otherwise it will affect the service life of the equipment,the quality of the oil and the utilization of the meal.What use commonly at present is to clear,clean,the method such as drying.The cleaned material enters the pretreatment workshop and enters the extraction workshop after screening,crushing,softening and compacting.
  Process parameters of subcritical extraction of soybean oil:
  Thickness of blank:0.3-0.4mm
  Moisture of blank:<8%
  Butane solvent extraction times:4 times
  Extraction pressure:0.35-0.4MPa
  Extraction temperature:25-35℃
  Material to solution ratio:1:1.2
  Residual oil of meal:<1.5%